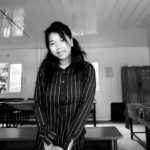 My name is RAVELOHARISOA Honintsoa, but everyone calls me Honintsoa. I am a 22 years old young Malagasy girl from a town named Moramanga. We are a small city hosting the greatest investment structure company in Madagascar. I've always wanted to be a manager as I decided to study management since I was in High school. Thus, I have been graduated in Vocational Studies at 18 and one years later, I received the "Professional bachelor's degree in Management".
As most of the young people in my town, I am keen on sports, especially the collective ones. I also love socializing and hanging out with friends. I have a dream in my life. Later, I wish I would become a manager such a great accountant; the reason why I study management. Professional tasks that I earned through ages and my Professional Volunteerism with Madagascar YMCA within the Development Alternative Program really helped me to gain experiences and gain land to reach my objective.
It is always grateful to socialize and keep in touch with others, and even more when it is about to make other going forward. I've always thought that I mastered culture, but Development Alternative reminds me that there are so many things to still learn. Even if I love socializing, DA taught me that some people are not always easy to be socialized with. If I used to think that developments are Government matters, DA reminded me that each of us is the Development. I firmly hope that I have made steps to contribute to the rise of the new development within the Development Alternative program.
Honintsoa Raveloharisoa
[NDLR] Honintsoa Raveloharisoa was speaking at the session #CitizEMPOWER, sharing about citizen-generated data initiatives and how these approaches can help us respond to COVID- during the UN WORLD DATA FORUM from 19th to 21st October 2020