On November 05, 2022, during its National General Assembly, YMCA Madagascar has received a new leadership team. Elected by youth representatives of the different local branches, the new National Executive Board (BEN) of YMCA Madagascar has four years to lead the association.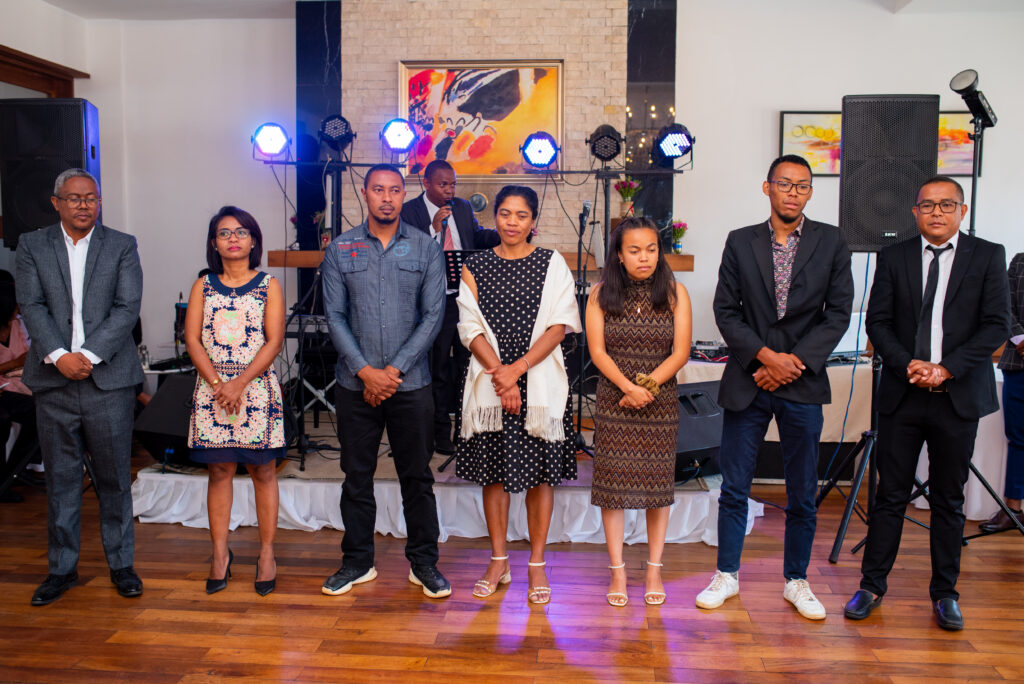 They are eight people and half of them are young people under 35 years old. They are:
– Mr. Rakotonirina Zo Ny Aina, President
– Mrs. Nala Andrianambony Clara Michel, Vice-president
– Mr. Rakotofiraisana Hasiniaina Jean Nestor, Second Vice President
– Mrs. Rafenoherinjanahary Nirina Odette, Treasurer
– Mrs. Rakotomiarintsoa Anjara Hary Mbolana, Women's Representative
– Mr. Rakotoarinosy Harinesy Tsiry, Youth Representative
– Mr. Ratrimoniaina Toavinaharinaivo, Advisor
– Mr. Razafisoahanana Tendry Ny Tiako Asimbola, Advisor
« Matanjaka- Mandroso- Manjary Tanora », freely translated as: Powerful- Developed and Empowered, this is the vision of the new president. The YMCA Madagascar team conducted a short interview with the new president of YMCA Madagascar to know who he is, and what are his ambitions for YMCA.
This is Zoky Zo.
Can you introduce yourself?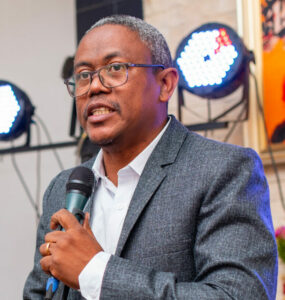 My name is Rakotoniaina Zo Ny Aina, but I would like people to call me Zoky Zo. I studied chemical engineering at the Ecole Supérieure Polytechnique d'Antananarivo (ESPA Vontovorona). Then, I received my DEA in Materials Science in 2005. Currently, I am preparing my PhD in Materials and Raw Materials Studies. Professionally, I work as an expert consultant in project management and community development.
Married with 4 children, I live in Carion Manjakandriana.
What is your relationship with YMCA Madagascar?
I met YMCA Madagascar in Carion during the National General Assembly of the YMCA in 1999. As a young people at the time, I immediately shared the same vision of the YMCA and decided to join the organization as a volunteer. Soon after, with some friends, we decided to create a local branch of the YMCA in Carion in 2001. In 2006, I had the opportunity to join the national executive board member as a treasurer. In this leadership position, I participated in the implementation of the new African Renaissance vision in 2007 with all the YMCA national movements in Africa. From that, I decided to continue my commitment to the youth of the local Carion branch.
What pushes you to become president of YMCA Madagascar?
YMCA has made a big change in my life. YMCA has contributed to create the person I am today.  Various trainings, workshops and other activities have shaped my mindset. So, I think, it's time to give back. It is time for me to serve the association and the youth in my turn. I am convinced that I could very well contribute to the evolution and development of the YMCA by leading the association and thus share my experiences.
What is your vision for YMCA Madagascar for this new mandate?
For the next four years, I see and I would like to have a YMCA Matanjaka – Mandroso- Manjary Tanora freely translated by : « Powerful- Developed and Empowered » (Editor's note)
Powerful : Strong in structure, human and financial resources.
Developed:

From our current position, we aim to go even further. Continue and double the efforts already made.

And finally Manjary Tanora : Manja ry Tanora:

In Malagasy, this has several meanings. First « Manjary » in the sense of « vanona »: empowered,

to be useful

,

worthy, responsible and respectful

, who

succeeds and prospers

. This is a vision for the youth but also for the YMCA as a structure.  Secondly, « manjary » in the sense of « becoming ». So « Manjary Tanora » is about the renewal of the YMCA, having a youthfull organization »! Indeed, although we are going to reach our 100 years of existence, we are going to show that the association is getting younger. And finally, the last variation of Manjary tanora is a play on words for: Manja Ry Tanora! Young people are great, you are great!!!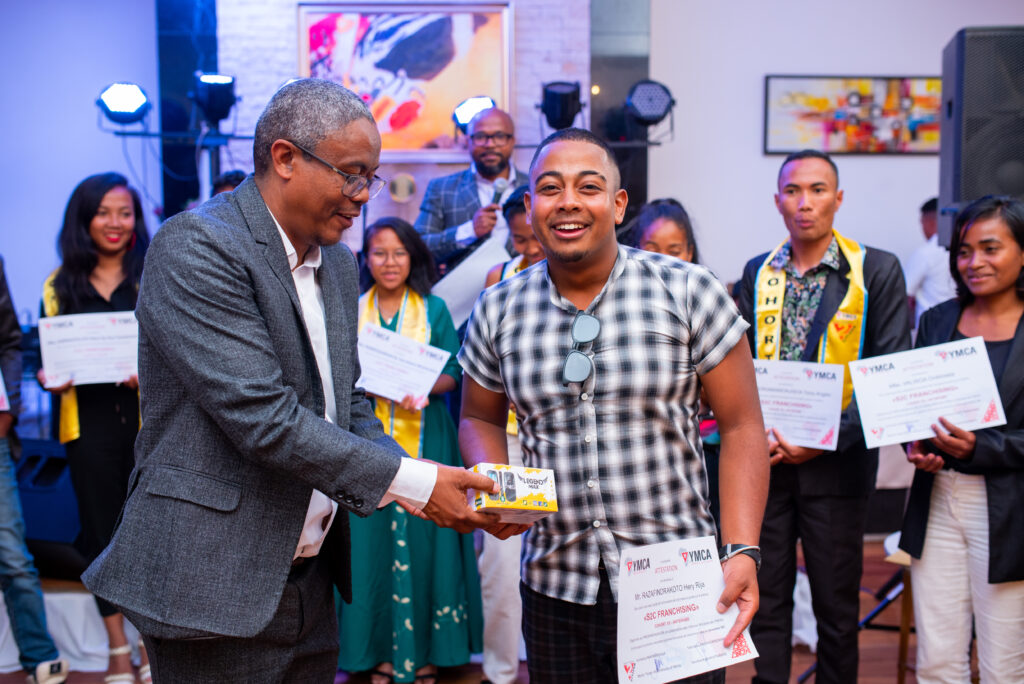 What is your greatest asset in achieving these goals?
Thanks to the years I spent in the YMCA, I know its strengths and weaknesses very well.  I will put at the disposal of the association, my professional experiences as an expert consultant in project management to solve its problems. And thus, to have a powerful and developed YMCA as in our vision. However, I will not be alone to achieve these goals. I have a team in whom I believe and who are also ready to use their skills and experiences for the good of the association.  I am also youth friendly; I have the advantage of interacting with them on a daily basis so I know their needs. Finally, YMCA is my life! I can even say that YMCA runs in my veins! So, for my life to succeed, YMCA must succeed too! I can proudly say that YMCA is lucky to have me!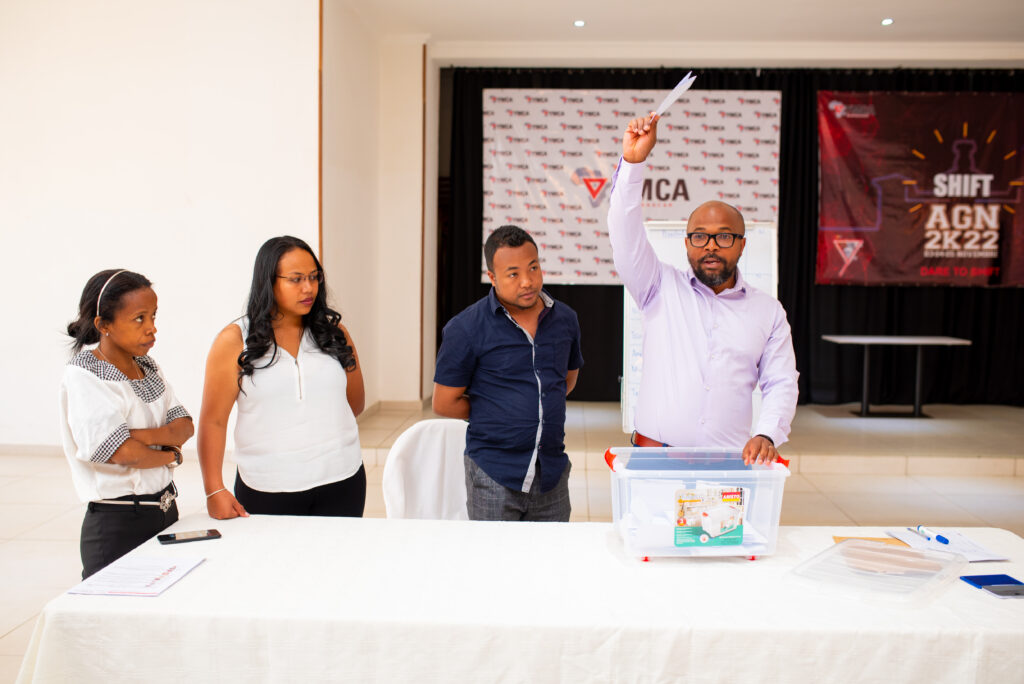 What is your strategy for the financial empowerment of the YMCA?
Precisely, with the board members, we are making a strategy for the financial empowerment of YMCA.  Discussed during the first meeting of the National Executive Board, we would like to turn our strategy mainly on the communication and visibility of the association at the local, national and international level. This, to highlight the status of the YMCA as the largest youth organization, a strong and transparent movement. This is to find more resources. We believe that this will strengthen our relationship with other YMCAs, restore confidence in donors, and make us eligible for various funding opportunities on youth.
Can you tell us a little anecdote?
Well…. With YMCA, I had the opportunity to attend a youth festival in Norway, in 2004. I was really surprised because it was the first time I saw the sun at 11pm! People are walking in the street from 1am because the day is so long. And during this festival, we received an invitation to lunch with the Norwegian Prime Minister of the time. Such was my amazement when I saw him coming, on foot and without a bodyguard, like any good citizen! Then at the lunch with the Prime Minister, I was expecting a big feast (laughter), but there were only mashed potatoes… This is to say that status and position does not make you superior. You can be a prime minister or president and have a normal life. I will do the same with the young people!
A little message for the youth?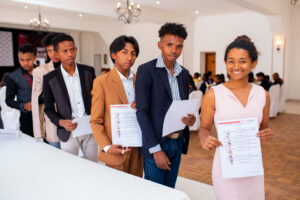 Youth are not tools. YMCA will not exist without the youth. It is up to us, as young people to show that we are worthy, respectful and civic-minded « manjary » youth! And that we are capable of taking in hand our future and the future of the association! Young people must be the real actors of their own development.
Collected by Mialy Sombiniaina
French version, here.